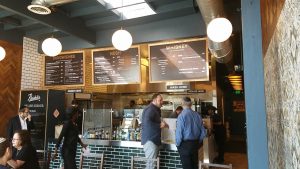 Fleishik's, the "sandwiches, nosh, and whiskey place", has opened in Los Angeles, near the city's famous The Grove outdoor mall in Fairfax.
Sandwiches at Fleishik's are served on challah, white, wheat, or gluten free bread, with unique options available. The "Sedar Plate" comes with smoked turkey, cranberry walnut charoset, fried egg, romaine, and horseradish. The "Hot Mess" is served with pastrami with thousand island dressing, onion rings, jalapeño, and tomato relish. The "Zayde" comes with crispy dried salami, fried pickles, caramelized onions, and deli mustard. Lots of other types of sandwiches are on the menu as well.
The "Nosh" side of the menu offers different salads, soups, sides, and desserts. Kids can have salami or turkey sandwiches, or schnitzel fingers served alone or with french fries and orange wedges.
Fleishik's also offers scotch, whiskey, rye, bourbon, tequila, vodka, gin, and different wine and beer varieties.
Hours of operation are Sunday-Thursday 11am-1opm, Friday 11am-1.5 hours before sundown, and Saturday 1 hour after sundown until midnight.
Fleishik's is kosher certified by the RCC.