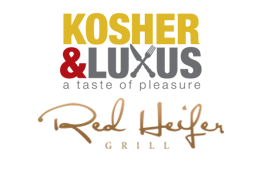 Starting Monday, June 8th, the relatively new kosher restaurant in Cancun, Kosher & Luxus's Red Heifer Grill, will be reopening at the Hotel Krystal (address & map below).
Kosher & Luxus will be open daily from 2:30 – 11:00 pm. They have separate weekday and Shabbat menus, serving vacationers all week long.
WEEKDAY MENU LINK  |  SHABBAT MENU LINK
Kashrut supervision is by Rav Siman Tov Raphael Nigri of the Kehilat Neve Shalom in Cancun (full-time mashgiach on the premises).
All products have the certification of the OU. The meat is certified by Star K and Magen David Mehadrin.
If you are staying at a different hotel on Shabbat, you can order kosher meals to your hotel + an electric hotplate until your room for an extra fee.