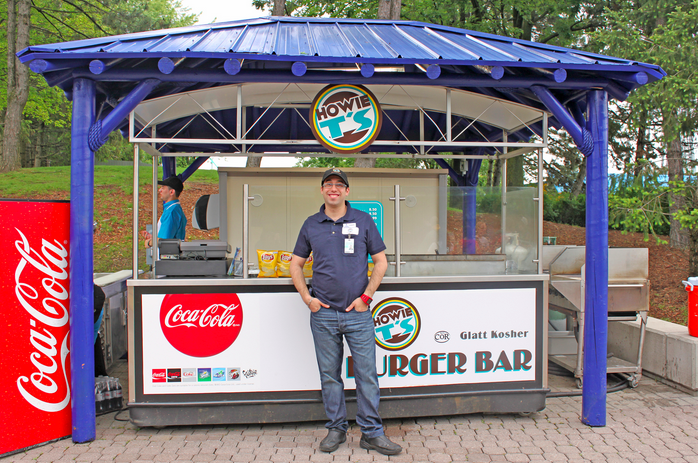 For the last 2 years, Toronto-based kosher eatery, Howie T's, has been running a kosher stand within Canada's Wonderland, a theme park north of Toronto. That contract seems to have not been renewed for the 2015 summer season according to CJN.
The kosher food cart had served kosher hamburgers, hot dogs, veggie burgers and other items.
Kosher food will be available at the park in the form of pre-packaged kosher items at other restaurants within Canada's Wonderland. According to Wonderland's PR manager:
Due to a lack of demand and minimal sales, the Howie T's cart has been replaced with six delicious meals located in two restaurants in the park.
It is unclear who the kosher provider is for those kosher meals being provided at those 2 park restaurants. However, according to the Wonderland website, here's what kosher options will be offered at Backlot Cafe in Action Zone (no second restaurant is mentioned): 3 salads & 3 sandwiches –
Asian Crunch Salad with Sesame Soy Vinagrette: Cabbage, Radicchio, Carrot, Edamame, Green Onion, Fried Chow Mien Noodles, & Mandarin Orange
Nicoise Salad with Herb Dijon Vinagrette: Iceberg Lettuce, Baby Spinach, Arugula, Tuna, Egg, Potato, Green Bean, Tomato, & Kalamata Olive
Grilled Vegetable and Quinoa Salad: Quinoa, Feta Cheese, Red and Yellow Pepper, Zucchini, Sweet Potato, Eggplant, Onion, Lemon, Olive and Canola Oil Blend, & Spices
Grilled Vegetable and Hummus WrapWhole Wheat Wrap, Red Pepper, Zucchini, Mushroom, Eggplant, Onion, Hummus, Olive and Canola Oil Blend, & Spices
Classic Tuna: Multi Grain Bun, Tuna, Mayonnaise, Celery, & Spices
Falafel Wrap: Whole Wheat Wrap, Falafel, Cabbage Salad, & Hummus
---
Howie T's operates two kosher restaurants in Toronto, one near Bathurst Street and Lawrence Avenue and one at Bathurst and Steeles Avenue. Howie T's is also the kosher catering provider at the Air Canada Centre for Maple Leafs & Raptors games, BMO Field for Toronto FC (soccer) games, and Ricoh Coliseum for minor league and exhibition hockey games.
Howie T's restaurants and food are kosher certified under the COR.