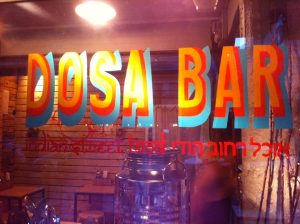 Dosa Bar is a new restaurant in Tel Aviv specializes in healthy kosher Indian and Pakistani cuisine. All food is vegetarian or vegan, and gluten free.
They serve dosas (salty crepes made from a fermented batter), an Indian delicacy, with all different toppings like chutney, hummus, and tzatziki. Diners can choose to have basmati rice based dishes with vegetable sides that change from day to day. Dishes can be ordered spicy or mild. The menu also offers natural bottled juices, and delicious desserts with no refined sugar.
Hours of operation are Sunday-Thursday 12pm-11pm and Friday 9am-4pm.