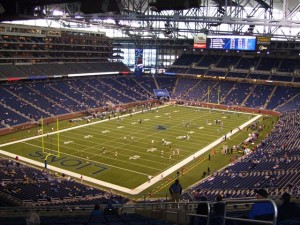 The Detroit Lions great season, just got better … for Jews at least.
According to the COR of Detroit, the Vaad started supervising a kosher stand at Ford Field for Detroit Lions home games as of mid October. The stand is in the lower concourse in section 118.
It features Abeles & Heymann Premium All-Beef Frankfurters and Abeles & Heymann All-Beef Italian Sausages with peppers and onions, Pastrami Dogs, Pretzels, Bottled Soda, Bottled Water and Bottled Beer.
Mashgiach Temidi at the premises.