Billed as "the greatest kosher food festival of all time," KOSHERPALOOZA is a brand new, first-of-its-kind, kosher consumer event bringing together kosher fans, brands, restaurants, influencers, educators, experts, and more, in celebration of (literally) all things kosher. The event is hosted by Fleishigs Magazine and Powwow Events.
Taking place at the Meadowlands Expo Center, in Secaucus, NJ on June 28, 2023, all day (from 10-6), kosher consumers can try new products, network, meet kosher influencers and celebs, and have fun.
>> Use Discount Code "

YTK20

" for $20 OFF EACH TICKET!
Get your tickets!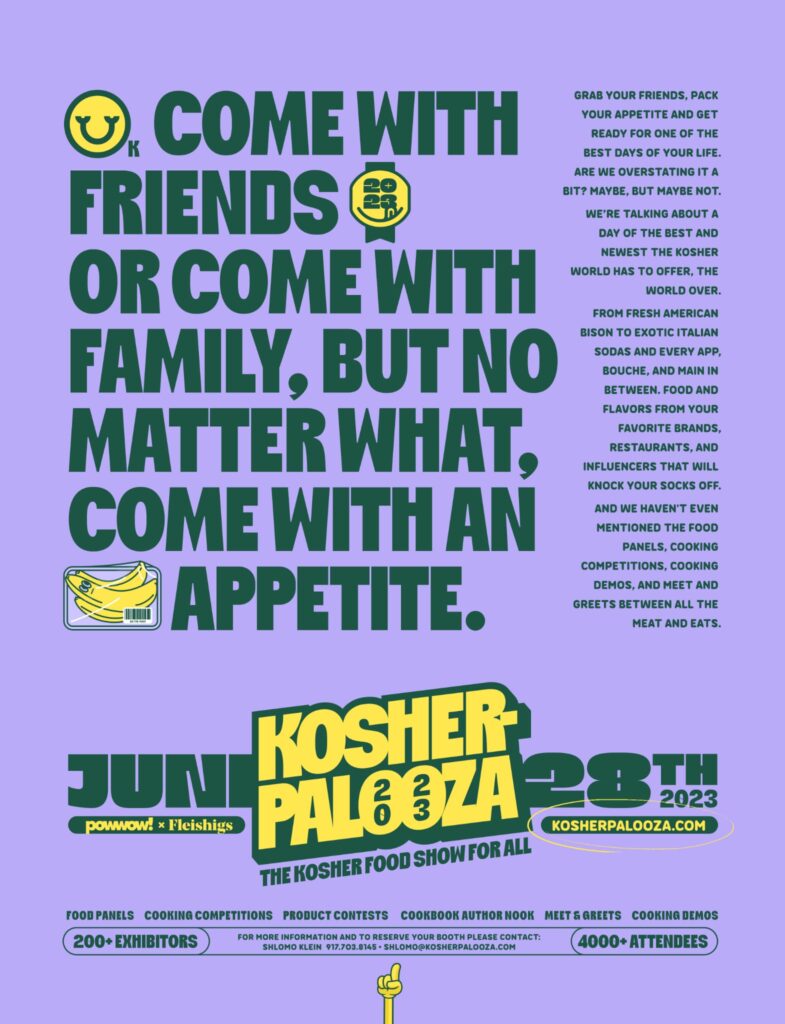 Who is this for?
Everyone!*

While this is not an industry event, like what Kosherfest was, this is intended to be for everyone – namely adults. *Children will not be allowed into the event, with the exception of children under 2 confined to strollers – allowing parents to attend and bring their babies along.
What's in it for you?
Indulge in the latest and greatest products from every corner of the kosher food industry. Sink your teeth into deliciously fresh bison, sip on exotic Italian sodas, savor juicy fruits and delectable candies, indulge in mouth-watering pastries, and discover new dairy delights (not in that order obviously). With a wide range of brands, restaurants and more exhibiting, there's more than something for everyone to enjoy.
Which kosher brands, products, and restaurants will be exhibiting?
As of the publishing date of this article, here is the current list of kosher companies that will be in attendance at Kosherpalooza:

Meal Mart, Weighless cookies, Knocktails, Fruits by Pesha, Next Level Taste, Pas, Jack's Gourmet, Gluten Free Easy, Meat and Board, Candy A Plenty, Kiddush Maven, Joburg Meats, Jerky Joy, L'chaim Meats, Holy Wagyu Meats, Kosher Valet, Masbia, California Gourmet, Pelleh, Bethel Creamery, Tuscanini, Heaven and Earth, Royal Wine, Kosher.com, Kayco, Pretzel Plate, Popinsanity, The Cheese Guy, Artscroll Cookbooks, The Nuttery, Mixcraft, Thomas Ashbourne, 7th Heaven Chocolate, G Events, Twisty (Cookie Corner), I Want Romanian, Granolachik, Goko, Dvash Organics, Deebest, Gaia Coffee, Incredoughble, Krunchy Pickles, Kosher Catch, Prairie Street Prime, Pizza Biza, Galil Foods, Bam Spirit, Noble Wine, Bread and Batter, Bcuz Snacks, Luxe Party, A and B Fish, Pc Pops, Allied Importers, Dead Drop, Wall Street Grill, Eden Wok, Great Kosher Restaurants, AJ Madison, Apronmasters, Prestige Kitchens, Mg Celebrations, Yudins Appliances, Stack Street Coffee, Compliments Platters, Town Appliances, with many more being added between now and the event.
JUNE 28 2023 — SECAUCUS, NJ

>> Use Discount Code "

YTK20

" for $20 OFF EACH TICKET!
Get your tickets!
Who'll be there?
The lineup includes noted kosher cookbook authors and influencers Kim Kushner, Levana, Naomi Ross and Paula Shoyer who will be cooking up a storm and competing in a CHOPPED style competition; Headliners including Chanie Apfelbaum, Danielle Renov, Gabe Geller and (YeahThatsKosher founder) Dani Klein hosting and toasting; Games including blind taste tests, hot sauce contests, and a wine glass challenge, along with a panel of experts offering wine tastings, mixology demos, as well as People's Choice for best new product.
It's a full day of fun and food where you can sink your teeth into gourmet treats from featured brands, participate in panel discussions, see live-streaming cooking demos, drink from among the finest wines and cocktails, learn from the best kosher talent, catch the latest news in the kosher restaurant scene, win prizes and giveaways, vote for your favorite products and hear from leading organizations including the Orthodox Union (OU) and Masbia, too.