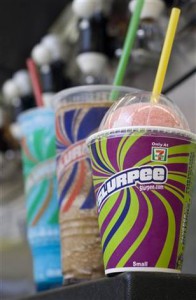 Thankfully 7Eleven (7-11) falls out in the Summer, and that the brand isn't named 12-11, otherwise we'd be enjoying their frozen Slurpee treats in the frigid Winter. Imagine that Brain Freeze.
Head to your local 7-11 today for a free 7.11 fl. oz. Slurpee. Here's a store locator.
LIST OF KOSHER SLURPEES
This list of kosher Slurpees is from Star-K,
Chicago Rabbinical Council (CRC), the Orthodox Union (OU), Pepsi Co., and kashrut.com as of June 28, 2011.
Scroll to the bottom of this post for NON-KOSHER Slurpee flavors.
The following Slurpee flavors are Kosher and DAIRY: Diet Pepsi, Bubble Yum, Fanta Banana Split, Fanta Blue Vanilla, Peach Dragonfruit, Icebreakers Sugar-Free Blueberry Splash, and Jolly Rancher Watermelon.
The following Slurpees are kosher pareve unless otherwise indicated:
BARQ'S:
French Vanilla Creme
Red Creme
Root Beer
CAFE LATTE: Kosher, pareve
COCA COLA:
Coca Cola Classic
Citra
Sprite
Vanilla Coke
Cherry Coke
Mello Yello
Pink Lemonade
Strawberry Creme
Sprite Remix
Sprite Tropicana Remix
Full Throttle Frozen Fury
Whoopie Berry
CRYSTAL LIGHT SLURPEE :
Lemon Lime
Strawberry Kiwi
Peach Mango
Berry Pomegranate
Lemonade
Passion Fruit
Raspberry Lemonade
Stawberry Banana
Orange Pineapple Ice
Raspberry Ice
Fusion
Tangarine Lime
Cherry Limeade
Apple Mango
Wild Strawberry Energy
DR. PEPPER:
Dr. Pepper
Cherry Vanilla
Sour Patch Kids
Mutant Berry
FANTA:
Apocalyptic Ice
Fuji Frost
Apple
Banana
PURPLE CRAZE (Grape)
Banana Split Dairy
Birch Beer
Kiwi Strawberry
Vanilla
Blue Blunder Berry/Gullywasher
Cherry
Backberry
Blue Cherry
Orange
Yellow Cherry
Blue Raspberry
Red Licorice
White Cherry
Ginger Ale
Super Sour Apple
Super Sour Cherry
Watermelon
Wild Cherry
Orange Cream
Pineapple
Green Lemon Lime
Green Melon
Gullywasher Purple Berry Cherry
Mandarine Tangarine
Wild Cherry-Reduced Calorie
Strawberry Banana
Strawberry Pineapple
Grape
Mango Melon
Super Sour Watermelon
Blue Vanilla Dairy
Yellow Cherry
Liquid Armor
Starburst Dragonfruit
Mango Passion Fruit
Sour Watermelon
Transformer
What-a-Melon
Gojiberry or Wolfberry
Watermelon Lime
5 React, aka Pomegranate Passion Fruit
Purple for the People
KZ3 Battle Fuel
Berry Blaster
Summertime Lime
Fruitworks:
Blue Raspberry Freeze
White Cherry Freeze
Melon Berry Blast
Orange Crème
Hawaiian Punch:
Fruit Juicy Red
Green Berry Rush
Lemon Berry Squeeze
Mazin Melon
Berry Limeade Blast
Blue Lightning
IBC:
Iron Man
Laffy Taffy:
Master Chill:
Bruisin Berry
Sour Green
Purple Vanilla s'Creme
Vanilla Creme
Strawberry Creme
Sour Strawberry
MINUTE MAID
Blue Cherry
Lemonade
Blueberry
Orange
Raspberry Lemonade
Cherry
Passion Fruit Orange
Pineapple
Grape
Peach
Strawberry
Mello Yellow:
Mystery Airheads:
Pepe Rico Pomegranate Margarita
Pepsi:
Code Red
Blue Shock Freeze
Mountain Dew Live Wire
Mountain Dew
Pepsi
Diet Pepsi Dairy
Darth Dew Pitch Black
Frawg Apple
Mt Dew Voltage
Sugar Rush
Thin Ice
Blackberry Lime
Mountain Dew White Out (Sour Lime
Wicked Apple
Sierra Mist Slurpee:
Regular
Cranberry
Cranberry Splash
Lemon Squeeze
Sierra Mist Slurpee
Ruby
Slurpuccino
Sunkist Slurpee:
Tropicana Twister Slurpee:
Blue Raspberry Rush
Black Cherry Lemonade
Yo Cream / Jolly Rancher Dairy Cholov Stam:
Bubble Yum
Green Applea
Watermelon
Yo Cream
Icebreakers Peach Dragon Fruit
Blue Raspberry
Icebreakers Sugar-Free Blueberry Splash
Iced Coffee
New iced coffee bibs flavors available from Maine to New Jersey. They are dairy, Cholov Stam (OU-D):
Columbian Iced Coffee
French Vanilla Iced Coffee
Hazelnut Iced Coffee
Mocha Iced Coffee
The following Slurpee flavors are NOT KOSHER: Horchta Ole', Orange Bang Smoothie, Strawberry Twizzler, Gaterade Grid Iron Ice, Monster Black Ice, Pina Colada, and Tropicana Grape Wild Strawberry.
Important Slurpee Information from the Chicago Rabbinical Council: "Slurpee is a registered trademark of 7Eleven and is sold only in 7Eleven stores. Other similar products that are sold in other stores may not be kosher, even though the flavors may seem to be identical."
"This list only applies to 7Eleven stores in the United States. Other countries may be using other flavors that are not recommended."